CrossFit Kids
CrossFit Kids is not merely a scaled down version of CrossFit, it is entirely geared and designed for a special population and their specific developmental needs.CrossFit Kids combines gymnastics, body weight calisthenics, and weight lifting to develop bone density, strength, balance, body awareness, coordination, agility, cardiovascular health, and confidence.
This program will educate children and teens about truly functional fitness and inspire them to pursue it throughout their lives in a group setting. Children and teens participate in fun and engaging workouts that deliver measurable results and create more well-rounded athletes.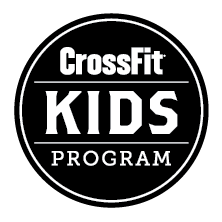 With a network of over 2,000 CrossFit Kids Trainers, CrossFit Kids is being implemented in schools at every grade level (pre-k thru 12) in before and after school programs and physical education curriculums. These kids and teens have a great opportunity to maximize their physical skills when exposed to this exercise stimulus during years of peak development. The elements of classes are constantly varied to keep the kids engaged and entertained, while teaching them proper movement mechanics and creating a broad athletic foundation. For CrossFit Kids it is imperative to pair fitness with fun! This combination creates a lifelong love of health and fitness for our children.
CrossFit Kids Class Info
Regular class times are Tuesday and Thursday at 4:00 pm and Saturdays at 11:30 am.  Classes last an hour.
Open gym is held for parents at the same time.
Age Groups 6-9 JV, 10-15 Varsity
Classes are instructed by up to two CrossFit Kids certified coaches. JV and Varsity levels warm-up together and then split off into skill/age appropriate groups. Everyone comes back together for a game at the end of class.
$125 per child per month unlimited class access.
$113 per child for members
$80 for sibling add on
Paid in full discounts are available.
Please call to reserve a position for your young athlete.